WHAT IS THE MODERN MANUFACTURING APPRENTICESHIP PROGRAM? 
Modern Manufacturing Apprenticeship Program (MMT) is a training program and partnership between Mercedes-Benz U.S. International, Inc. (MBUSI), Shelton State Community College, and local school systems….
Originally, MMT came from the combined effort to create a program for a steady pipeline of production workers from a group of local manufacturers, Tuscaloosa County and Tuscaloosa City School Systems, Shelton State Community College (SSCC), and the Chamber of Commerce of West Alabama.
The MMT program provides students with the cognitive and hands-on skills necessary to support the building of world class automobiles at Mercedes-Benz U.S. International in Vance, Alabama.
If accepted into the Alabama Office of Apprenticeship (AOA) recognized Modern Manufacturing program, high school students can begin working in our manufacturing facility in Vance, while in High School, and as early as early as 16 years of age. After successfully completing the Modern Manufacturing Apprenticeship Program, candidates can advance to MBUSI and earn a full time position in production. If a student wishes after high school graduation, they can continue college at SSCC for two (2) additional semesters and earn their associates degree in Modern Manufacturing. This can lead to the more technical production position of "Cell Operator".
If you are already a high school graduate, or have your GED, you can still apply to join the Modern Manufacturing apprenticeship program by following the below application process. 
PARTNERSHIP & ASSISTANCE
The Mercedes-Benz Modern Manufacturing Apprenticeship training program is a partnership between Mercedes-Benz U.S. International, Inc. in Vance, Alabama, Shelton State Community College and the Alabama Office of Apprenticeship. 
While students are in high school, the classes may be paid for by the school systems and other funding sources. After high school, MBUSI will pay 100% of tuition and fees, and books for 2 semesters. Students starting pay will be $15.00 per hour, with the potential of 2 additional pay raises during the program. Once the program is completed, the production wage starts at $20.00/ hr and progresses to $25.00/hr in 4 years, plus a lucrative benefit package.
Note: To determine if you qualify for additional financial assistance, you may visit www.fafsa.gov and complete the Free Application for Federal Student Aid (FAFSA) form. You may also visit Shelton State's Office of Financial Aid at https://www.sheltonstate.edu/admissions-financial-aid/financial-aid/ or (205) 391-2384 for additional financial aid opportunities.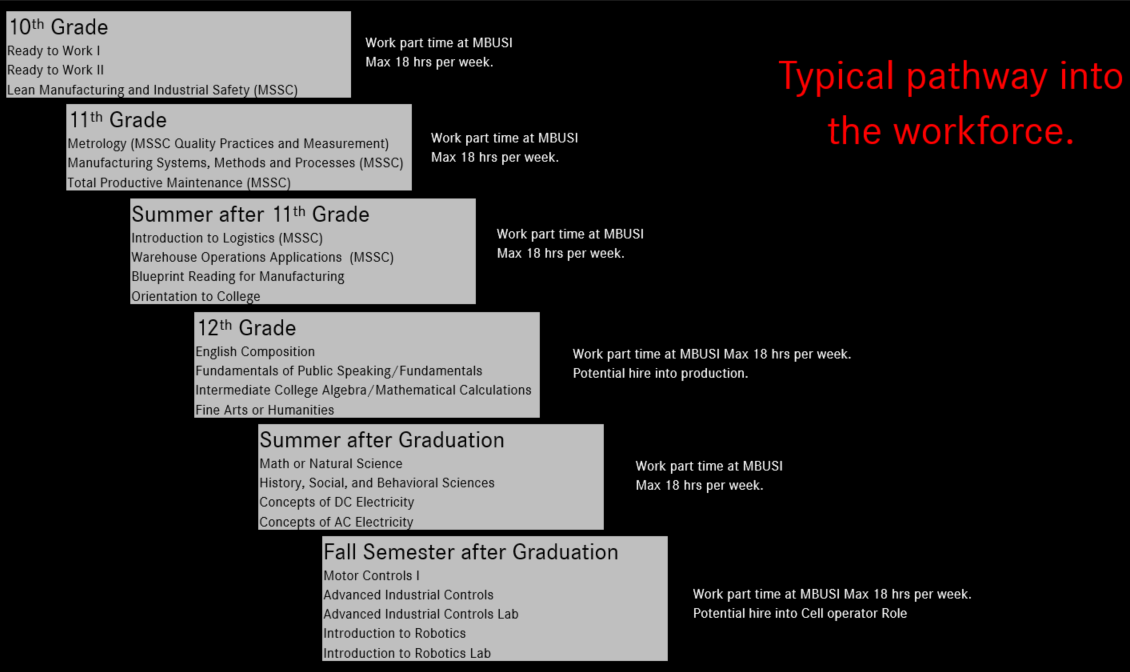 TYPICAL CURRICULUM FOR 10TH GRADE THROUGH SHELTON STATE COMMUNITY COLLEGE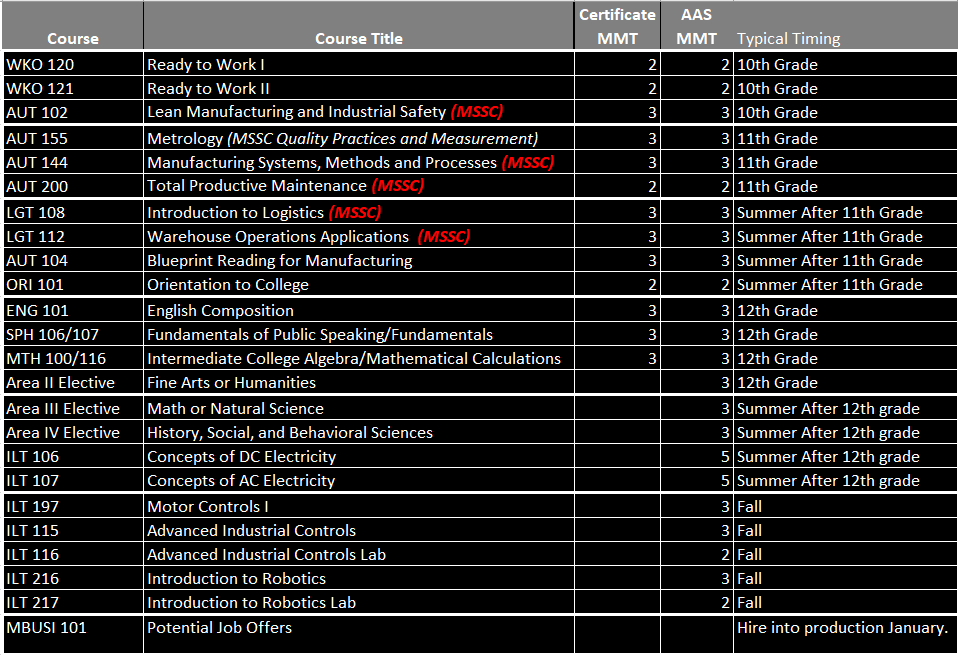 TYPICAL PROGRESSION INTO THE MBUSI WORK FORCE: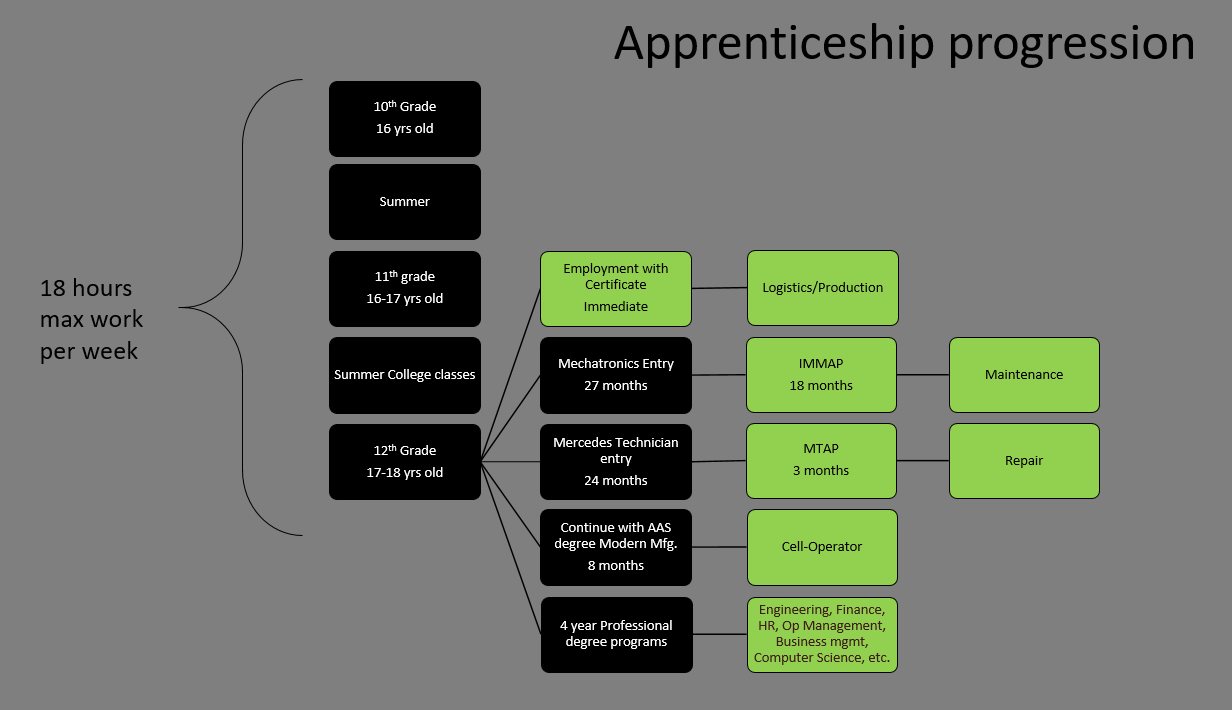 HOW TO APPLY
Open enrollment for the next Modern Manufacturing session is open from September 21, 2021 until April 29, 2022, with work beginning as early as November, 2021. Note: you must enter your Shelton State Student ID on the application.
Your application will not be considered unless you include your student ID.
PLEASE CLICK ON THE LINKS BELOW TO BEGIN YOUR APPLICATION PROCESS:
First apply and receive your Shelton State Community College Student ID at the following link:

 

SSCC
CLICK HERE after you receive your student ID to Apply Through AIDT
Qualified candidates will be invited to the training center for a hands on assessment and a WorkKey assessment administered by AIDT.
Top candidates will be invited for an interview with MBUSI. (H/S transcript is required at interview)
Complete your Admission process at SSCC including: Online Application, Signature Page, Photo ID, and all placement scores (English, Math, and Reading). This will be required prior to the selection.

 

SSCC Admissions
PROGRAM FAQ
WILL STUDENTS HAVE TO TAKE THE COMPASS TEST?
While it is possible that some will have appropriate scores on either the ACT or the SAT or will be transferring from another institution, it is likely many will have to take the Compass. Again, these students will follow all of the same procedures as all other students who apply for admission to Shelton State.
WILL STUDENTS BE ELIGIBLE FOR FINANCIAL AID APART FROM THE POTENTIAL ASSISTANCE (TUITION, FEES, BOOKS) PROVIDED BY MBUSI?
Yes. As with all students, however, they must complete the FAFSA (www.fafsa.gov). For questions related to the federal aid or the financial aid process at Shelton State Community College, please visit Financial aid assistance.
WILL MBUSI COVER ANY OF MY COST FOR TUITION AND BOOKS?
Please see "Partnership & Assistance."
HOW WILL I BE NOTIFIED IF I'M SELECTED FOR THE PROGRAM?
If you're selected for the program, you will be notified by e-mail.
WHAT ARE MY COMMITMENTS TO MBUSI WHEN I FINISH SCHOOL?
There is no commitment to MBUSI.
WILL I WORK IN THE SAME AREA WHILE I'M IN THE PROGRAM?
Work assignments and areas may change while in the program.
WHAT WILL MY HOURS BE WHILE I'M IN THE PROGRAM?
If under the age of 18, you will be limited to working hours between after school and 10:00 pm. There is a maximum of 18 work hours per week while school is in session. If over the age of 18, hours are not restricted and will be based on business needs.
HOW WILL THE TOP PERCENTAGE BE DETERMINED?
The top percentage will be identified by the students overall GPA and work performance, and business needs.
IF A STUDENT COMPLETES ALL THE COURSES OF THE MMT CERTIFICATE, OR MMT AAS DEGREE PROGRAM, WILL HE/SHE BE GUARANTEED A JOB AT MBUSI?
MBUSI will offer full-time positions in production to the top percent that successfully complete the program of study on time. Of those students, a top percentage will be admitted into the Cell Operator phase of training at MBUSI.
WHAT IS INCLUDED IN MY COURSE OF STUDY IN THE CELL OPERATOR PROGRAM AT MBUSI?
Courses at MBUSI will be related to the specific areas of assignment with a high concentration in Robotics.
WHAT IS INCLUDED IN MY COURSE OF STUDY AT SHELTON STATE?
Please see the section on "Typical Curriculum"
WHAT AREA WILL I BE IN WHEN I FINISH THE PROGRAM?
For those who go into the production, jobs will be in our Body, Paint, Assembly, or Battery  production shops. For those who successfully complete the MMT AAS degree program at SSCC, those students will fill open positions in the various production shops, but in a more technical role.
WHAT WILL I BE DOING AT THE PLANT WHILE I'M IN SCHOOL?
While attending school, students are required to work a minimum of 8 hours per week. The work areas will be in production for either our Body, Paint, or Assembly shop. The work will be limited to non-critical, and non-safety-relevant roles in producing Mercedes-Benz vehicles.
IS THIS A MAINTENANCE PROGRAM?
No, this is not a Maintenance Program.
ARE THE SPECIFIC COURSES REQUIRED AT SHELTON STATE AVAILABLE TO ME AT NIGHT OR WITH DISTANCE LEARNING?
All course work related to the MMT program will be primarily offered in the day time.
WHAT WILL MY WORK HOURS BE WHILE ATTENDING SCHOOL AT SHELTON?
Students will be working during the week between after school and 10:00 pm and/or Saturday. Any other additional work days will be approved on a case-by-case basis.
WILL VACATION BE AVAILABLE TO ME WHILE I'M IN THE CELL OPERATOR PROGRAM AT MBUSI? (THIS IS AFTER COMPLETION AT SHELTON STATE AND FULL TIME EMPLOYMENT.)
For students that go into a full time role, allotment for vacation will follow normal vacation guidelines.
I UNDERSTAND THAT I WILL BE REQUIRED TO WORK AT LEAST 8 HOURS PER WEEK AT MBUSI WHILE I'M ATTENDING SCHOOL OR AT SHELTON. WILL I RECEIVE ANY VACATION BENEFIT FROM MBUSI DURING THIS TIME?
Students will not be eligible for vacation, but can be scheduled for time off if approved.
WHAT WILL THE BENEFITS BE WHILE I AM ATTENDING SHELTON STATE?
In addition to being eligible for the assistance and the possibility of earning a full-time position, students will be paid for the hours worked at MBUSI, can participate in 401k, and will receive team wear, safety shoes, and any other protective equipment required.
WHAT IS THE PROCESS FOR BEING SELECTED?
See "How to Apply" (above).
IF I'M A CURRENT MBUSI FULL TIME TEAM MEMBER OR ONIN TEAM MEMBER, CAN I APPLY FOR THE MMT PROGRAM?
Current MBUSI Team Members: No. 
Current ONIN Team Members: Yes, you can apply; however, if you are invited to participate in the selection process and you are working a full time job with ONIN, you must use your own time to cover for being away from work to participate in any of the selection phases. If you are selected for the program, you would have to resign from your position with ONIN.
PROGRAM CONTACT INFORMATION